Explore Our Garden Wildlife Blog
Browse or search by Category or Keyword below, alternatively click on any Tag to see related articles.
How To Create Hedgehog Friendly Fences & Tunnels
19th September 2022
Last Updated: 25th September 2023
Despite being voted Britain's national species in 2014 the Hedgehog population is suffering serious decline and the problem seems to continue getting worse. This nocturnal mammal is now rarely seen in gardens where once it was commonplace.
While there are many reasons for the decline, there are simple steps we can all take to help hedgehogs and slow, if not reverse the decline. One of the simplest things is to make a hedgehog gap in garden fences to ensure hedgehogs have easy access in and out, allowing them to forage for food, find shelter and mate.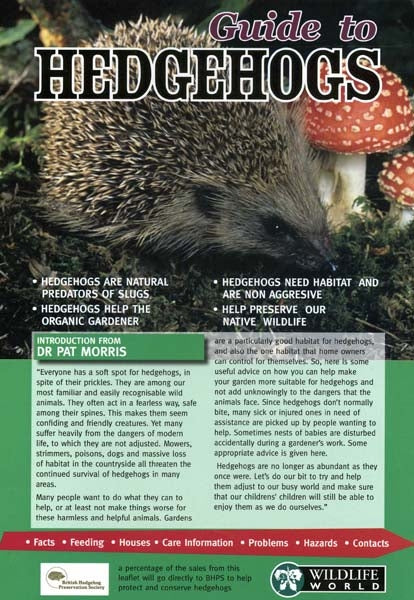 Do hedgehogs like hedges?
The name hedgehog derives from their long association with hedgerows and the loud snuffling noise, heralding their arrival. Until quite recently land boundaries, fields and gardens were all divided by hedges and this made the perfect habitat for hedgehogs. The removal of countryside hedgerows and modern farming methods drove hedgehogs into urban areas and gardens as a last refuge. However even garden hedge boundaries are nowadays being replaced by wire, wooden and concrete fences.
How do hedgehogs get into fenced gardens?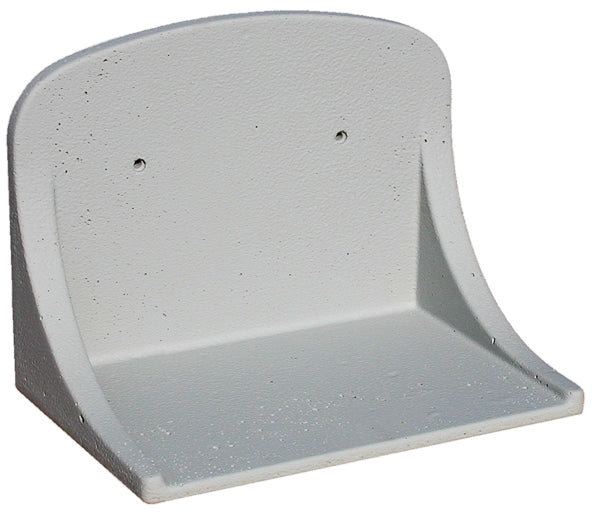 As hedgerows have been grubbed up and replaced by high fences with wooden and concrete gravel boards, they create impenetrable barriers preventing hedgehogs from reaching the green space they need to forage for food. As hedgehogs are forced onto pavements and roads in their attempts to roam, they are exposed to greater risk of injury and death, making survival even more perilous.
Hedgehogs, despite their relatively small size, travel over wide areas when active often covering 2 miles foraging in a single night. During the breeding season and as young adults leave their mothers; they travel even further looking for suitable areas to make their home. All this roaming means they need easy and safe access over many gardens, but fences, walls and other barriers force them into dangerous situations such as crossing roads. By linking gardens with access gaps we can improve the prospects for hedgehogs to live longer, roam safely and breed successfully.
What size gap can a hedgehog get through?
Hedgehogs can fit through 5"/approx 13 cm holes. This is the perfect size for a hedgehog to fit through, whilst still being small enough to avoid pets escaping through!
How to make wildlife-friendly fencing for hedgehogs
Make a gap (hedgehog tunnel)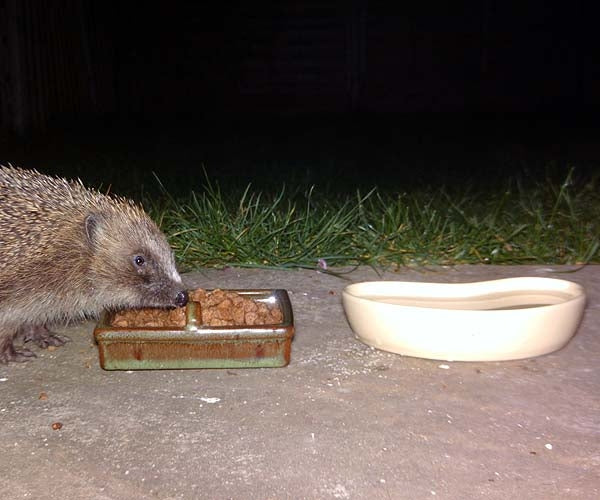 There are many ways you can create an access gap for hedgehogs. Cut 5" holes into wooden or concrete fences. Holes can be dug under obstacles, or ramps used over low walls, etc. Gates can be erected with a 5" gap between the gate and ground. When the time comes to repair or replace fences, try replacing a panel or the entire fence with a hedge, allowing access, shelter and excellent foraging opportunities for hedgehogs. You can mark your hedgehog gap with a hedgehog highway sign to encourage neighbours to join in.
Hedgehog friendly streets – invite neighbours
Once hedgehogs have safe and easy access to your own garden, why not help them further by talking to neighbours and encouraging your whole community to join in and combine efforts, creating truly hedgehog friendly estates. A street hedgehogs can roam and live in peace and safety, a place where the sight and sound of hedgehogs passing at dusk is no longer a rarity.
How to tell if you have hedgehogs in your garden
The first thing to remember is hedgehogs being nocturnal, will be curled up fast asleep in a quiet corner when we're typically in the garden. So you'll either need to sit up all night with a torch listening intently, or more realistically, look for the subtle clues that hedgehogs have passed through during the night.

Footprints – When the ground is very soft hedgehogs may leave footprints where they roam (or you can plant a sand trap). Their footprints are about an inch round with the toes on the front feet well splayed, while the toes on the rear feet are long and slender.

Trails – Hedgehogs have regular routes they follow each night and leave tell-tale 'tunnel' tracks through longer grass, shrubs and hedges as well as gaps in fences. Dewy mornings are a good time to spot the tracks of passing hedgehogs.

Poo – Hedgehogs pass a surprising amount of poo due to their healthy fibre rich diet. Look for firm dark droppings about 1-2" long and ¼-1/2" in diameter. The surface is rough and irregular with beetle shells usually visible.

Noise – Sit out on a warm summer evening and listen after dark. Hedgehogs are unexpectedly noisy creatures, snorting and snuffling as they forage in the undergrowth. Scratching sounds supported by pig like grunts and snorts indicate the presence of a hedgehog.
Remove fences add hedges!
Britain used to be a patchwork of hedgerows, joining town to countryside and countryside to village. Wildlife could travel from coast to coast without putting a foot on the ground. This wildlife superhighway has sadly all but gone, but every shrub and tree we replant helps. For all the wildlife, not just hedgehogs, consider replacing part, if not all, of a fence with a dense mixed hedge giving access, cover and food to a wealth of wildlife.
How to make a hedgehog-friendly garden
If you've been inspired to create your own hedgehog access gap, there are lots of other easy ways to encourage hedgehogs to visit your garden and make your garden hedgehog friendly. We have a number of articles to help you, along with many excellent products to support hedgehogs including hedgehog food, houses and feeding stations. You'll also find further excellent reading under the links at the foot of the page.
Lastly, please take a look at the Hedgehog Street website and consider signing up as a hedgehog champion.
---
Related Internet Links:
Images Courtesy of Duncan Richardson
British Hedgehog Preservation Society
Hedgehog Street
Ark Wildlife is not responsible for the content of external websites
---