Explore Our Garden Wildlife Blog
Browse or search by Category or Keyword below, alternatively click on any Tag to see related articles.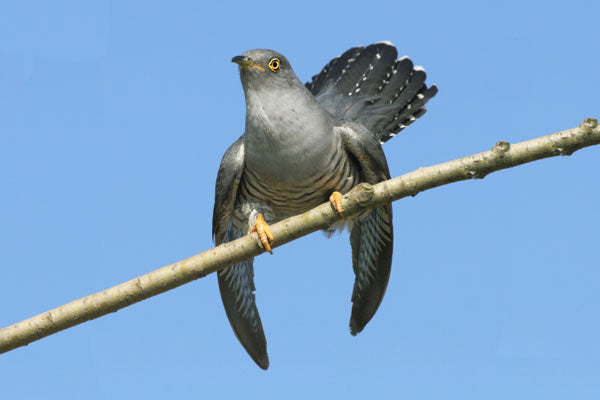 Summer is Winging its Way Towards Britain
25th January 2018
Last Updated: 6th April 2020
We can see summer coming from over 4,000 miles away as the first of the BTO's satellite-tracked Cuckoos begins to head north.
PJ, one of the British Trust for Ornithology (BTO)'s tracked Cuckoos, has now begun to move north, travelling from Angola to Gabon on his way back to Britain. He was first tagged in June 2016, in Suffolk, and has since been providing the BTO with key knowledge about Cuckoo migration.
Last year, PJ returned to Suffolk on 29th April where he remained throughout his breeding season. He began his migration to Africa for the winter on the 24th of June, taking a more central route from the UK to his most southern point, Angola. His route avoided the western route where The BTO have seen more fatalities in other tracked Cuckoos. Excitingly, PJ is one of only two BTO Cuckoos to have gone as far south as Angola.
In the last 20 years the number of Cuckoos in the UK has decreased by half. The BTO have been satellite tracking a number of Cuckoos since 2011 to find out why and this year they are tracking eight different Cuckoos and following their migrations.
In 2009, Cuckoos were added to the Red List of Birds of Conservation Concern. Although there was a lot of knowledge on the Cuckoo's breeding behaviour while in the UK, little was known about their migratory behaviour. In order to get some insight into why numbers may have dropped the BTO decided to use satellite tracking devices to understand their migration routes and what is causing Cuckoo's numbers to fall.
From Angola, PJ has already travelled 760km north. There has been little movement from PJ since 27th December, though this may indicate that he is preparing for his journey back to the UK. When PJ does make his return journey, it is likely that he will head west towards Ivory Coast, following his previous migration routes. This is one of the really great things about their satellite-tracking. Previous years' journeys can be compared and it may be possible to anticipate what the same Cuckoo may do in a different year. It can also help highlight any differences such as changes in the weather, and therefore allow us to understand why individual birds may change their routes.
Using data collected in previous years they were able to find out that although the Cuckoos tagged in Britain are referred to as 'British' Cuckoos, these birds only spend a small amount of time in Britain. One of the Cuckoos tagged at the start of the project spent just 15% of his time in Britain, spending most of his time in Africa (47%) and the rest on migration (38%).
Follow PJ and the other cuckoos's journey as they head north:
www.bto.org/science/migration/tracking-studies/cuckoo-tracking
---
Related Internet Links:
British Trust for Ornithology
BTO – Cuckoo Tracking
Ark Wildlife is not responsibe for the content of external websites
---