Explore Our Garden Wildlife Blog
Browse or search by Category or Keyword below, alternatively click on any Tag to see related articles.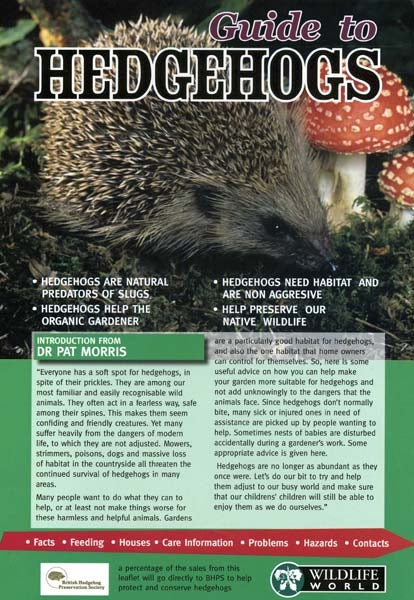 Hedgehogs by Pat Morris
6th September 2014
Last Updated: 13th May 2022
Finding myself at the grand age of 50 does bring with it a few advantages and an odd one in my case is the vast library of wildlife books I've accumulated over the years. Irrespective of the number, one book has always stood above the others and is more thumbed than any other book in my collection; it's HEDGEHOGS by Pat Morris.

I bought this book back in 1983, over 30 years ago now, and I refer to it to this day. Imagine my surprise then when the publishers Whittet Books got in touch to say the book was being updated! Well they couldn't have anticipated my enthusiasm for being involved. The result is I now have a 1983 and 2014 version of the book HEDGEHOGS, which is as charming, funny and informative as it ever was and added to this I've had the delight of Pat Morris's company and his story is as interesting as the book itself (more of this later).
At the time of his original research in the 70's, there was little known about hedgehogs and there was no BHPS, or other charity to call on for research, unlike all the sources we enjoy today. Having completed his book after 6 years work, nobody would publish it and it's only down to his tenacity that the longest running mammal book still in publication ever got off the ground! Without Pat Morris's book, I'm not sure Ark Wildlife would exist and you wonder how many of today's fantastic network of hedgehog carers have been equally influenced.
Well done Pat Morris, a true champion for hedgehogs and a fantastic book!
BUY a copy of Dr Pat Morris's HEDGEHOGS Here
---
Related Internet Links:
British Hedgehog Preservation Society
Hedgehog Street
Ark Wildlife is not responsible for the content of external websites
---