Explore Our Garden Wildlife Blog
Browse or search by Category or Keyword below, alternatively click on any Tag to see related articles.
Using a Hedgehog House to attract Hedgehogs to your garden
5th August 2021
Last Updated: 13th March 2023
What you can do to help attract and encourage hedgehogs in your garden.
Hedgehogs require safe nests for sleeping, breeding and most importantly hibernation. These sites must be waterproof, warm, well ventilated and safe from predators and sadly more and more commonly safe from man. Hedgerows, fallen trees, wild areas and derelict buildings made up these suitable sites but our modern farming and gardening methods leave fewer suitable sites available to the hedgehog.
Every year hedgehogs are accidentally killed and injured in large numbers by strimmers, mowers, forks and fire as they seek nest sites in thickets, compost heaps and long grass. Additionally, research shows that 28% of hedgehogs fail to survive each winter, with severity of weather having the greatest impact. The weight of the adult hedgehog being key to survival. Any juvenile or hoglet found after the end of September weighing 500g or less will not survive without additional feeding.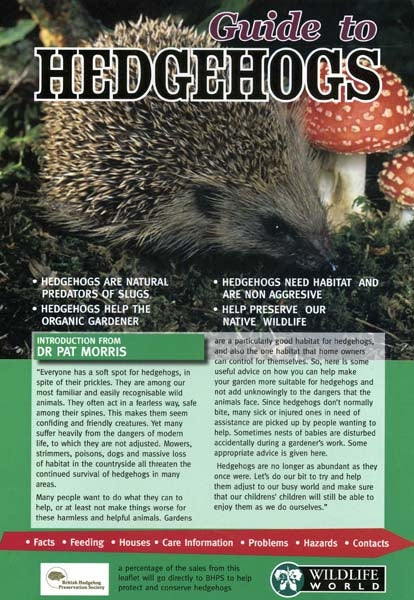 Top tips
Hedgehogs forage over wide areas up to 3-4 miles a night. You can encourage them to visit your garden regularly by providing access via a 4.5 inch gap in fences etc. along with hedgehog food and water at night throughout the summer. Providing a permanent shelter for sleeping will tempt them to set up home and a female hedgehog may even use a hedgehog house to have her young.
Where do hedgehogs live in the garden?
In autumn, as the days get shorter and nights get cooler, hedgehogs seek warm, dry winter quarters suitable for hibernation (you can check out our hedgehog hibernation calendar for more information). Once they've found a site, they'll begin to collect leaves, dry grass, brush, etc. to form a nest. Hedgehogs generally like to nest at the base of thick hedges, under bramble bushes, underneath piles of rubbish or compost heaps, or close to garden sheds.
What to put in a hedgehog house
Partly fill the house with handfuls of leaves, grass or hay to make hedgehogs feel at home. These are ideal insulating materials and supplying them will give hedgehogs a head start on nesting, but be careful to leave room for more materials because foraging for them is an important ritual for hedgehogs.
Preparing a nest in this way will provide a hedgehog with a model nesting site, where they can safely give birth to and raise their young. But don't be surprised if your hedgehogs visitors just use it for hibernation or even daytime naps.
Where to put a hedgehog house
The best place to put a hedgehog house out is a quiet, shaded position in your garden (ideally facing east to south), where the entrance hole will be shielded from bad weather.
Hedgehog houses can simply be placed in a suitable location in the garden and left, but if you prefer, you can also partially bury them in the ground, under a log pile, compost heap or similar. Ventilation is provided at roof level and the entrance hole is slightly raised to accommodate this action. If you intend to partially bury your hedgehog house, we recommend placing roofing felt or plastic sheets under the runners to keep an air space under the box and reduce excess dampness in the nest chamber.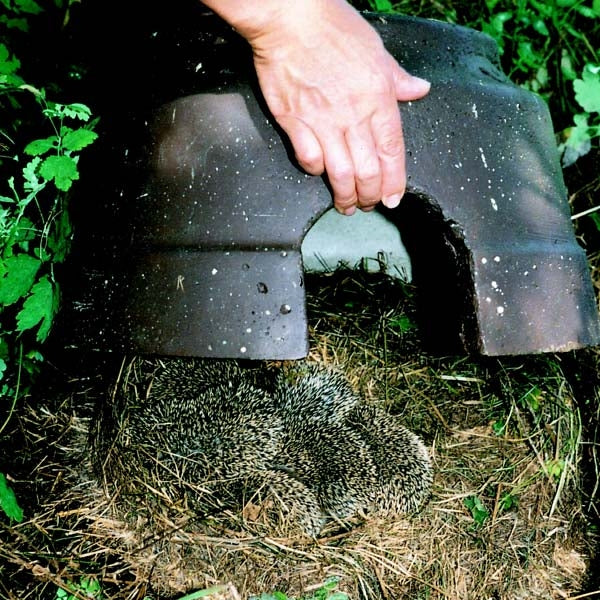 Top tips
Once the hedgehog box is in position, try to keep your distance and visits to a minimum as human smells and unnecessary disturbance may deter hedgehogs from taking up residence. To check if an animal is using the house, place a small, light object (such as some grass) in front of the entrance to see if it gets pushed away.
When to put a hedgehog house out
Since a hedgehog house can fulfil any number of purposes, there's no bad time to add one to your garden.
Put one out in the garden during spring and it'll give hedgehogs a nice home after they've finished hibernating, which they might well use for raising hoglets. Or you could help local hedgehogs out by introducing a house around October, which will give them a great spot for hibernating.
Maintaining your hedgehog house
Hedgehogs carry many parasites such as ticks and fleas and in the wild will change nest sites regularly to avoid a build up of pests. In the garden we can help by cleaning out the nest chamber in April and October (post hibernation and post breeding season) as long as the house is empty. Remove and destroy all old bedding material and clean the interior with boiling water and/or scrubbing with slightly soapy water or veterinary approved disinfectant. Allow drying to take place before replacing the roof and then add new dry, clean hedgehog house bedding ready for the next occupant.
A well sited hedgehog house should be in a secluded area out of the weather but still allowing good air circulation. In such positions a purpose built Hedgehog House, such as a Hogilo hedgehog house or hedgehog house with inspection roof, will last for many years with no further treatment. However, to increase the useful life of your hedgehog house indefinitely you may prefer to add additional protection, in which case you can cover the lid with roofing felt and apply a water based preservative (outside only) bi-annually. Do not use creosote or use a solvent/oil-based preservative because the fumes are toxic. There are lots of animal safe water based preservatives available from good hardware stores.
Top Tips
Hedgehogs naturally carry fleas and ticks and healthy animals will not be affected by them. If you find a hedgehog with excess ticks or in poor condition during the day, please consult a vet or your local hedgehog carer (see contacts below).
---
Related Internet Links:
British Hedgehog Preservation Society (BHPS) Tel: 01584 890 801.
St Tiggywinkles Tel: 01844 292292
Ark Wildlife is not responsible for the content of external websites
---